Our Team
BACK TO OUR STAFF
Sara Knies
Interior Designer
sara.knies@koverthawkins.com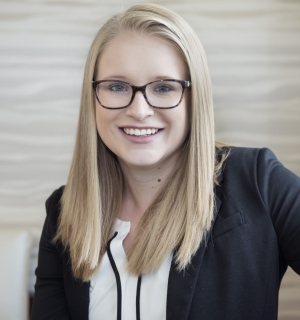 Sara Knies, Interior Designer
Sara interned at Kovert Hawkins during the summer of 2017 and recently joined our Interior Design team, as a graduate of Indiana State University with a degree in Interior Architecture Design.
She has been a member of the "Interior Design Embrace Amplification" program since 2014. The purpose of this organization is to promote the growth of interior design students; to establish relationships between design professionals and design students; to provide opportunities for community leadership and extracurricular activities; to promote and enhance educational development.
As a project designer at Kovert Hawkins, Sara will work directly, with Amanda Hunsucker, Director of Interior Design. As well as, our clients throughout our Projects many phases; from the design process through construction administration. Her capabilities and high energy will be a great asset to our Interior Design Team.
Professional Experience:
South Dearborn Community Schools, Aurora, IN

Aurora Elementary School
Dillsboro Elementary School
Manchester Elementary School
Moores Hill Elementary School

Clark County Auto Auction, Jeffersonville, IN
Clarksville Branch Library, Clarksville, IN
GCCS JHS Auditorium Renovation, Jeffersonville, IN
Jeff township Public Library Renovations, Jeffersonville, IN
Lanesville Schools Renovations, Lanesville, IN
Libs Paving Office, Floyd Knobs, IN
North Harrison Middle School Classroom Addition, Ramsey, IN