Our Team
BACK TO OUR STAFF
Matthew D. Gullo, RLA, CLARB
Director of Landscape Architecture and Planning
matt.gullo@koverthawkins.com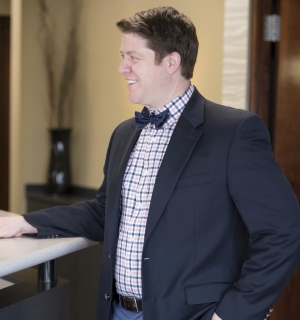 Matt joined Kovert Hawkins in 2008 as our first Landscape Architect and Planner. Throughout his career in this profession, he has had extensive experience in both planning and landscape architecture projects, allowing the firm to produce successful built forms in both land and building.
Matt's work in landscape architecture revolves around designing spaces which allow individuals to move from the outdoor environment into building forms by creating aesthetically pleasing features, safe pedestrian and vehicular zones and environmentally sensitive solutions. Matt enjoys resolving design problems, both technically and aesthetically, to make sure the final constructed piece fits budgets, represents owner's wishes and can be enjoyed by all users. Recently, Matt has been involved in large park projects, K-12 school athletic and building projects, streetscapes, and other civic design projects.
Matt, also, uses his knowledge of planning to help public and private groups create long range plans for their intended vision. He has worked with many urban and rural identities to create master plans, comprehensive plans, corridor studies, environmental studies, and zoning documents to help plan for future development and give direction for land use. The documents produced become invaluable to clients, making sure proper phasing is implemented, budgets are organized and vision is achieved.
Career Highlights:
President Friends of the Ohio River Greenway; $2 million in Grant Awards;
Southern Indiana (2014-Present)
The Greenway Foundation of Indiana; Outstanding Corporation Award (2014)
Indiana Ready Mixed Concrete Association; Concrete Achievement Award,
Indianapolis North United Methodist Church, Courtyard (2012).
American School and University Education Design Excellence;
Outstanding School Design, Morgan Elementary School (2012)