Our Team
BACK TO OUR STAFF
John A. Hawkins, AIA
Principal
john.hawkins@koverthawkins.com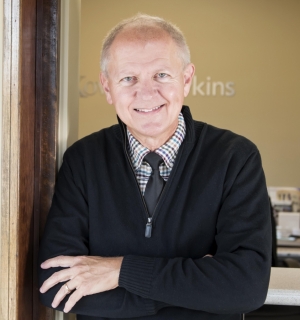 John was a founding partner of Kovert Hawkins Architects in 1985. Since beginning the firm, he has personally designed or managed over 2,000 projects with a construction value over $1 billion, several receiving awards for quality and innovative design.
John's computer illustrations have been exhibited in Korea, Japan, Portugal, Denmark, Germany and throughout the United States. His work has been published in Uddin's Digital Architecture and Chen's Architecture in Color Drawings.
John's prior experience includes serving as a Senior Project Architect with Humana, Inc., where he was responsible for all design work for thirteen hospitals in seven states.
John attended the Ball State University, College of Architecture with a full academic scholarship. He also received the University's History award for academic excellence in Architectural History.
"I've never seen an architect do as much as John Hawkins."
Gerald Jackson, Superintendent, West Washington Elementary and Jr./Sr. High School
Career Highlights:
Chairman, Indiana Fire Prevention & Building Safety Commission (2013-present)
Commissioner, Indiana Fire Prevention & Building Safety Commission (2005-present)

Business First, Real Estate Awards - Industrial Project Category (2016)
J. Knipper and Co., Inc., River Ridge
Business First, Real Estate Awards – Industrial Project Category (2015)
AutoNeum Plant, River Ridge
Silver LEED, UPS Building & Healthcare, US Green Building Council, (2014)
One Southern Indiana - Southern Indiana Business Awards, Professional of the Year (2009)
Distinguished Alumni Award, Ball State University College of Architecture (2009)
Business First, Top Architectural Firms (2008)
BKD President's Award, Kentuckiana Associated Builders & Contractors, MedVenture (2006)
Architecture in Perspective 20, International Exhibit of Architectural Illustration (2005)
Tilt-Up Concrete Association Firm of the Year (2004)
Cornerstone 2020 Award, Louisville & Jefferson County Planning Commission, College Industrial Park (2000)
Award of Merit, Kentuckiana ABC, First Tennessee (2000)
Architecture in Perspective X, International Exhibit of Architectural Illustration (1995)
Architecture in Perspective IX, International Exhibit of Architectural Illustration (1994)
Outstanding Achievement Award, Indiana Concrete Council, SerVend, Inc. (1991)
Honor Award, Indiana Masonry Institute, Corydon Post Office (1990)
Hall of Fame Award, Varco Pruden Building Systems, Lexus of Louisville (1989)
Honorable Mention, Alabama School of Fine Arts, National Design Competition (1987)
American School and University Educational Design Excellence;
Outstanding School Design, Springs Valley Community Schools (2007)
Outstanding School Design, Salem Middle School (2006)
Outstanding School Design, West Washington Schools (2006)
Tilt-Up Concrete Association; National Honor Award, Amatrol (2005)
National Honor Award, LouIsville Metro Commerce Center (2005)
Architectural Firm Award, Award of Honor, Kentuckiana ABC, AML Office Renovations (2002)
National Honor Award, Greif Brothers, Inc. (2001)