Our Team
BACK TO OUR STAFF
Amanda Hunsucker, KYCID, IIDA
Director of Interior Design
amanda.hunsucker@koverthawkins.com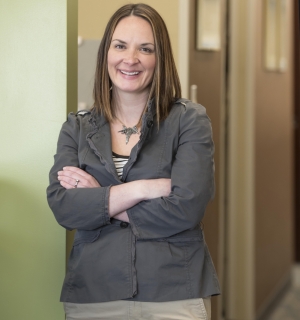 Amanda Hunsucker, NCIDQ, IIDA, KYCID, RID, is Director of Interior Design for Kovert Hawkins Architects, Inc. With a firm philosophy rooted in innovation and functionality, Amanda spearheads the development of creative and thoughtful solutions for the built environment of Kovert Hawkins' clients. Amanda is known for her collaboration, professionalism, leadership and exceptional client service.
She works on a wide range of project types and markets, bringing rich experience in corporate offices, student and academic facilities, tenant finish, municipal and institutional environments. Amanda has served as a Project Manager and Lead Designer since 2004.
She received her Bachelor's Design in Interior Design from Indiana State University in Terre Haute, Indiana.
Career Highlights:
Sullivan College of Technology & Design, Interior Design Dept., Advisory Board, 2015-present
IIDA Louisville Lexington City Center Board, Communications Chair, 2010-2015
American School and University, Educational Interiors Showcase;
Silver Citation, Silver Creek Primary School (2011)
Outstanding Design, Auditoriums/Music Rooms, Paoli Jr./Sr. High School (2010)
Outstanding Design, Physical Education/Recreation Facilities, Paoli Jr./Sr. High School (2010)
American School and University Educational Design Excellence;
Outstanding School Design, Morgan Elementary School (2012)
Outstanding School Design, Claypool Elementary School (2011)
Outstanding School Design, Paoli Jr./Sr. High School (2010)
Outstanding School Design, Mitchell High School (2007)
Outstanding School Design, Springs Valley Community Schools (2007)
The National Terrazzo & Mosaic Association (NTMA);
Honor Award, Paoli Jr./Sr. High School (2010)
Honor Award, Jeffersonville Fire Station No. 2 & Headquarters (2010)